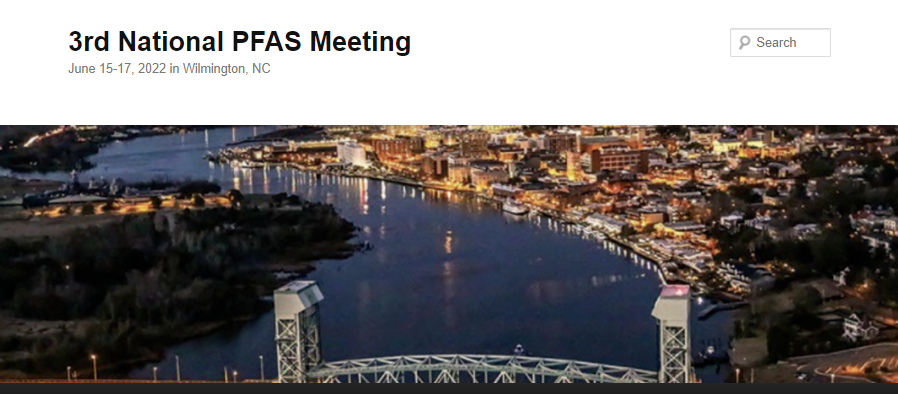 By Jose Aguayo.
CHEJ attended the 3rd National PFAS Conference in Wilmington, NC this past week. The conference was hosted by the North Carolina State University Center for Environmental and Health Effects of PFAS in conjunction with the Cape Fear Community College and funded by the National Institute of Environmental Health Sciences. In attendance were environmental research and advocacy organizations, state and federal agencies, several universities, and representatives of affected communities and tribes. The city of Wilmington was chosen as the venue due to the serious PFAS contamination in the nearby Cape Fear River.
The conference touched upon every aspect of the nationwide (and global) problem of PFAS toxicity and accumulation in the environment and within our bodies. If you need a refresher on PFAS chemicals and the problems they pose to our health, you can catch up here. Researchers from universities here and abroad talked about the new and emerging discoveries of how PFAS impacts our health. For example, it was established that common PFAS compounds such as PFOA and PFOS have very significant associations with kidney cancer, hormone disruption, and immune system suppression. Researchers also emphasized that although we know how a handful of commonly used PFAS affect our health, we know next to nothing about the thousands of other PFAS compounds that make up the majority of PFAS emissions.
Another important aspect explored at the conference was the need for proper treatment or destruction technologies since conventional forms of disposal do not work. Treatment for contaminated drinking water includes the use of reverse osmosis systems, activated carbon filtration, and the use of filtration membranes. Although these treatments show promise, each has drawbacks that remain to be addressed. Among the destruction technologies, those that seek to break the carbon-fluoride bond of the PFAS compounds, a promising one being evaluated by the USEPA is called "supercritical water oxidation." It is a complex process, but it boils down to heating contaminated water to very high temperatures under great pressure to reach a plasma state of matter. At this stage, PFAS and other contaminants are breakdown and recombine into inert chemicals upon cooling. Again, although promising, there are still some kinks that need to be worked out.
Finally, the conference convened a panel on PFAS disposal. CHEJ participated in this panel and gave a presentation on how landfills are not proper disposal locations for PFAS compounds. This is because landfills are not closed systems. In fact, even a brand-new landfill will leak about 36,500 gallons of contaminated water every year! Couple that with the fact that certain landfills can develop cracks in their bottom liners in less than 5 years, and you have a gradual accumulation of PFAS within the surrounding environment. Any community surrounding the landfill will then be slowly poisoned by these compounds as they leak into the groundwater, drinking water, and even the surrounding air.
(To learn more about landfills, view our landfills publication here.)
The EPA also made a noteworthy announcement at this conference. On June 15, the first day of the conference, the agency released updated interim drinking water health advisories for PFOA and PFOS, and final health advisories for PFBS and HFPO/GenX. These health advisories are several orders of magnitude smaller than the previous ones in place for PFOA and PFOS, and quite small for the newly promulgated PFBS and HFPO/GenX. For PFOA and PFOS specifically, the values are 0.004 and 0.02 parts per trillion (ppt) – numbers that are minuscule and barely above the detection limits of analytical chemistry. In English, this means that values of detection will be so close to zero that the mere presence of a chemical could garner recognition for remediation by the agency. This new measure will undoubtedly protect people's health from these chemicals. Now, although this is a praiseworthy move by the EPA, these health advisories are not maximum contaminant levels (MCLs) – EPA's enforceable drinking water standards; they are only guidelines. As such, water utilities and other water treatment entities may choose not to follow them, and the EPA can do nothing to force their hand. That is the next step the EPA needs to take: to make these PFAS health advisories into fully fledged MCLs.
All in all, the 3rd National PFAS Conference was a productive forum for researchers, advocators, and impacted communities to have a voice and move the discussion forward. It was a testament to how well we can all tackle a problem to our collective health, but also a stark reminder of how much more work is needed because polluters have been manufacturing these harmful chemicals for nearly 70 years and continue to do so.