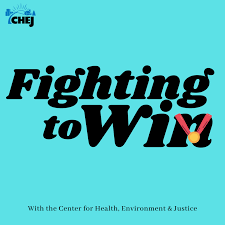 By Gregory Kolen II.
Did you know that CHEJ offers audio discussions for you to listen to?
The Fighting to Win podcast hosted by the Center for Health, Environment & Justice (CHEJ) is where you will hear inspiring stories from environmental activists across the country.
Looking back to some highlights from prior episodes from this time of year:
Charles Utley's inspiring experiences and insights related to Environmental Justice! Utley grew up in Hyde Park, Georgia, a predominantly Black community. Many people worked at Southern Wood Piedmont Co., a company that used creosote and dumped their chemical debris into a stream that bordered Hyde Park. Listen now for more info!
Hilton Kelley, Executive Director and Founder of CIDA, Community In-Power & Development Association, gave up his acting career to pursue environmental justice in his hometown of Port Arthur, TX. Listen now for more info!
EP 3 – Tackling TCE-Tainted Water in Tuscon's Communities of Color
Learn about the health effects of drinking TCE-tainted water in Tuscon. Listen now for more info!
If you enjoy this audio content from CHEJ, let us know at chej2@chej.org more of what you'd like to hear!