CHEJ's "All In" - Spotlight of the Month
Since February, CHEJ's Science Director and toxicologist, Stephen Lester, has been participating in the community response to the Norfolk Southern train derailment that resulted in spilling five tanker cars of vinyl chloride on the side of the tracks and intentionally burning it in the town of East Palestine, OH. Stephen's 40 plus years of scientific and environmental justice expertise has been covered by several leading news organizations. 
In summary, Stephen criticized the company's "unconventional" approach to identifying where to sample for dioxins; asserted that Norfolk Southern is responsible for picking up the costs of the cleanup; offered insight into the EPA's "lame excuse" for testing and their refusal to measure dioxin at the levels in soil that it can cause adverse health effects; and, provided a clear opinion on how citizens should take their next steps in regaining control of the narrative.
Our senior organizer and Small-Grants Manager, Teresa Mills, has also been actively engaging with Ohio-based environmental groups who are working with the East Palestine residents.
Stephen and Teresa's work is a prime example of what CHEJ has been doing for the past 42 years: providing scientific and organizing support to grassroots community-based organizations.
Vinyl chloride is a chemical belonging to the family of compounds called organochlorides, which include other highly toxic chemicals including trichloroethane and the infamous pesticide DDT. Vinyl chloride is a man-made chemical that presents itself as a colorless and highl… [Read more]
Hydraulic fracturing, or hydrofracking, is a process for accessing gas and oil deep within the earth. The process involves creating a well and drilling about one mile deep into the ground. Once it has been dug deep enough, cement is poured into the opening around a steel pipe to create… [Read more]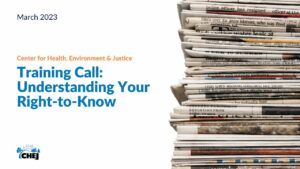 One of the most important things citizens have to arm themselves against hazardous environments is the Emergency Planning and Community Right-to-Know Act (EPCRA) of 1986. … [Watch now]
By Sharon Franklin. By now everyone has heard or read about the disaster in East Palestine, Ohio (or as the residents call it "EP") due to a Norfolk Southern Railway train derailment and later chemical spill. Daily we are learning more about how this freight trai… [Read more]
By Leila Waid. The train derailment in East Palestine, Ohio, shows that our country is unprepared to address environmental emergencies adequately. Environmental disasters of the past show that accidents, just like human error, are inevitable…. [Read more]
By Hunter Marion. On March 12, 2023, ProPublica published an article in which CHEJ's Science Director, toxicologist Stephen Lester, was commented as saying that "[Norfolk Southern] is responsible for the costs of cleaning up this accid… [Read more]
Do you find this information useful? Please consider pitching in and making a contribution to CHEJ. We appreciate your support!
Last month, we celebrated Women's History Month, it's important to recognize and honor the history of women in the environmental justice movement.
From the fight for clean air, safe drinking water, toxic-free living conditions for their families and communities, to leading the way in groundbreaking research, organizing efforts, and policy advocacy.
Women have been instrumental in advocating for the rights of communities affected by environmental injustice every step of the way. Let us celebrate and thank them for their contributions to the environmental justice movement.
We hope that you have found the edition of Backyard Monthly informative and enjoyable to read. Our aim is to keep you updated on our latest initiatives and inspire you to join us in advocating for environmental justice. We kindly ask that you consider sharing it with your network and ask them to subscribe.
Please share this email with others. Together, we can make a difference in the fight for environmental justice and create lasting change!