CHEJ's "All In" - Spotlight of the Month
We at CHEJ are excited to introduce our new monthly newsletter, Backyard Monthly! This newsletter is designed to provide you with an update on CHEJ's monthly activities. Our blogs, monthly training calls, Toxic Tuesdays, and more can now all be accessed and viewed in one, digestible email.
Additionally, this newsletter is rolling out during an ongoing environmental crisis reminiscent of the one that created CHEJ: East Palestine, OH. Through this newsletter, we hope to illuminate our work with grassroots groups like those in eastern Ohio who are fighting for their right to live safe and toxin-free.
The last several issues of this series in Toxic Tuesday have addressed the difficulty in interpreting health risks when people are exposed to toxic chemicals. The last issue focused on the failure of the risk assessment approach to address these difficulties… [Read more]
Polychlorinated biphenyls (PCBs) are a group of toxic man-made chemicals that were used in industrial and commercial settings from 1929 through 1979 when their use was banned by the Toxic Substances Control Act (TSCA). During that time, this family of chemicals were… [Read more]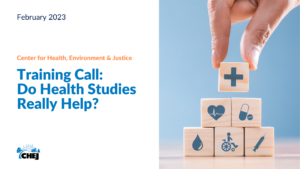 Since the train derailment in East Palestine, Ohio last weekend, health studies are now more prescient to the general public. However, health studies… [Watch now]
By Jose Aguayo. Artificial turf fields have become the norm when it comes to athletic fields. They are everywhere here in northern Virginia and a reported 11,000 fields are in use in the entire country. I, myself, was just playing… [Read more]
By Stephen Lester. How many times have we heard the same refrain from government leaders and scientists involved in community wide exposures such as the recent train derailment in East Palestine, Ohio. This incident resulted in vinyl chloride… [Read more]
By Gregory Kolen II. When it comes to non-profit communications, visuals can go a long way in increasing engagement. Good visuals provide potential supporters with an easy way of understanding the importance and urgency of the cause they are being… [Read more]
Do you find this information useful? Please consider pitching in and making a contribution to CHEJ. We appreciate your support!
We want to thank everyone for their support so far, as it has been instrumental in helping us work toward a better future. Backyard Monthly, our new monthly digest email is evidence of your support in motion. Your donations have enabled us to continue our work, and we are so grateful for your generosity. We intend to use Backyard Monthly as a way to keep you up to date on a regular basis in one easy to read summary.
Please consider making a contribution to help us further our work. Together, we can make a difference in the fight for environmental justice and create lasting change!