CHEJ's "All In" - Spotlight of the Month
This past April, we at CHEJ celebrated our 42nd Anniversary and our 53rd Earth Day! Although we as a nation have come so far in regards to environmental justice since 40-50 plus years ago, there is still so much left that we need to accomplish.
Vinyl chloride contamination in East Palestine. Plastics pyrolysis and chemical recycling in the Midwest. Oil, gas, and fracking waste in the Northeast and Gulf South. Our nation still suffers from an overabundance of communities marked as unworthy of protection from the government and big companies alike.
From making polluters pay to helping build a voice amongst those who are abandoned in these "sacrifice zone," we at CHEJ are determined to get your voices heard and demands answered.
For more information about our services and accomplishments, please read through this latest edition of Backyard Monthly.
Acrolein is a toxic chemical that presents itself as a clear to yellowish liquid that evaporates quickly and is highly flammable. As it vaporizes, it has an unpleasant smell and tends to accumulate in low areas since it is heavier than air.… [Read more]
The way scientists think about how chemicals cause their toxic effects is changing. Recent scientific research tells us that the traditional notion of how chemicals act is being replaced by a better understanding of the actual features of exposur… [Read more]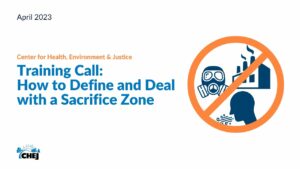 In this call, we instruct you on how to use the EJScreen to see if you are living within a sacrifice zone. And if you are, we provide advice on how to use.… [Watch now]
By Leila Waid. Climate change is one of the leading environmental challenges facing our world today. This will wreak havoc on all aspects of society and in some instances it already has from increasing droughts and wildfires to stronger storms and… [Read more]
By Sharon Franklin. On November 30, 2012, the community of Paulsboro, New Jersey thought the vinyl chloride clouds were fog after a train derailment caused a rupture in a tank carrying chemicals. Zoë Read, reporter for WHYY, recently posted an… [Read more]
By Stephen Lester. Shortly after the horrific Norfolk Southern train derailment occurred in East Palestine, OH, I was invited to attend a town hall meeting organized by River Valley Organizing. The purpose of the meeting was to give people the… [Read more]
By Gregory Kolen. Environmental justice action has become increasingly visible in recent years as the effects of climate change and environmental degradation have taken center stage. As more attention is given to these issues, media cov… [Read more]
Do you find this information useful? Please consider pitching in and making a contribution to CHEJ. We appreciate your support!
On April 6, 1981, the Center for Health, Environment and Justice (CHEJ) was established. Over the past 42 years, we have successfully supported over 10,000 communities and individuals through our campaigns and training programs. Our donors have made it possible for us to carry out our important work in community outreach, small grant programs, and training initiatives.
For a comprehensive look at all of our accomplishments from last year, you can read our 2022 Annual Report.
Last month, we celebrated Earth Day, but we don't want to lose sight of the reality that every day is Earth Day! By making conscious choices and being mindful of our impact on the environment in our daily lives, we can make a difference. Let us remember that the choices we make every day can make an impact on the health of our planet, and let's strive to leave our planet in better shape than we found it.
We are grateful for your support over the last 42 years, which has enabled us to assist grassroots organizations and advance their goals. Moving forward, we remain committed to fighting for environmental justice and building a better future for all. Thank you for joining CHEJ on this crucial journey!