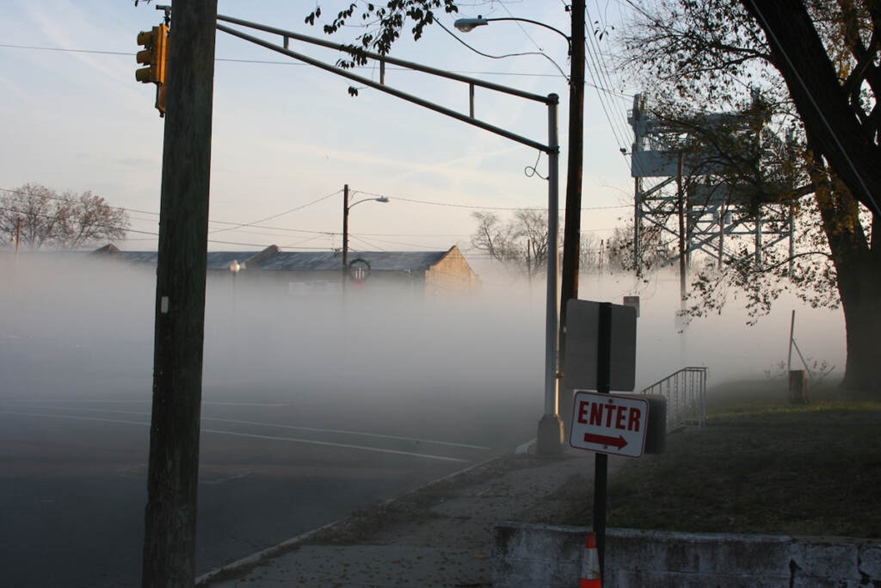 By Sharon Franklin.
On November 30, 2012, the community of Paulsboro, New Jersey thought the vinyl chloride clouds were fog after a train derailment caused a rupture in a tank carrying chemicals. Zoë Read, reporter for WHYY, recently posted an article recounting this incident. Trisha Dello Iacono, a resident she interviewed, recalled that a train carrying a colorless flammable gas called vinyl chloride derailed less than four miles from her home, in Paulsboro, N.J. After researching the carcinogen, she placed towels around her windows and doors. But it wasn't long before she felt a sugary burn in her mouth. She said "it [tasted] sweet, but it [tasted] like a chemical sweetness that you know something is not right. And then I started feeling like a tight band was around my head." The Paulsboro accident led to the evacuation of hundreds of residents, and dozens of people sought medical attention afterwards. Conrail, the company responsible for the train, offered cash settlements after hundreds of residents filed lawsuits against the company. Fast forward to 2023 from Paulsboro, New Jersey to East Palestine, Ohio and this sounds very familiar.
Paulsboro Residents Are Still Feeling Health Impacts
Now, more than 10 years later, residents of Paulsboro still worry about long-term health impacts, and are still questioning whether enough has been done to prevent more accidents from occurring, especially after the Norfolk Southern freight train carrying the same product derailed in East Palestine, Ohio. Dello Iacono was not evacuated. Despite not living in the evacuation zone, Dello Iacono said she and her son dealt with symptoms like headache, sore throat, and nausea. These symptoms lasted a few weeks. Her son Liam's symptoms (nosebleeds) didn't show up until six months after the train derailment. Later, when he started kindergarten his teacher noticed that he had short-term memory loss. In 2020, he was diagnosed with Type 1 Diabetes. She still worries about the potential for serious health problems to arise in the future. She says, "The fear doesn't go away."
Very similar to the events surrounding East Palestine, shortly after the Paulsboro derailment, the New Jersey health department, the Centers for Disease Control and Prevention, and Rutgers University conducted initial health evaluations for residents and first responders. The health department determined the chemical leak caused reversible, short-term but harmful health effects (eye and nasal irritation or headache). However, no state or federal agency had evaluated the long-term health impacts of those exposed, despite recommendations to do so. In Paulsboro, the National Transportation Safety Board (NTSB) warned Conrail 23 times prior to the accident but the company failed to address the dangers. Mistakes were made by state officials, too, and after the accident, the New Jersey Department of Environmental Protection inaccurately told residents the chemicals had dissipated. Additionally, the volunteer firefighters weren't adequately trained to respond to such hazards. They didn't wear the appropriate protective gear, the state's emergency response plan was insufficient, and the Paulsboro residents were not evacuated soon enough, according to the NTSB report.
What Do Communities Want?
Dello Iacono said she wants Congress to pass legislation that forces rail companies to ensure their rails are safe. In 2015, U.S. Sen. Bob Menendez introduced legislation to impose stronger penalties on railroads that violated safety standards. However, the bill went nowhere.
Recently, Dello Iacono, traveled to Washington, D.C. to attend a hearing about rail safety. She said that she feels for the mothers of East Palestine, because "Knowing what I know now a decade later, we're still dealing with health issues from our exposures, and to just think that's what their future entails. It's just really hard and my heart breaks for them."
Hope for the Future
After East Palestine, legislation bills were introduced that would broaden the definition of a "high-hazard flammable train." The bill would provide for stricter federal safety regulations and direct the Federal Railroad Administration to study wheel-related failures and derailments, enact new safety measures, and require large freight railroad companies to join a confidential "close call" reporting system.