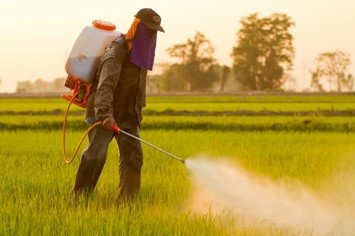 By Leila Waid.
Pesticides are defined as "any substance or mixture of substances intended for preventing, destroying, repelling, or mitigating any pest" by the Environmental Protection Agency (EPA). The US uses many different types of pesticides to, for example, control food crop growth. These practices amounts to over 1 billion pounds of the products used annually.
The United States allows various harmful-to-human-health pesticides to be used in the country. A 2019 study found that the US still used 72 different pesticides banned in the European Union, 17 banned in Brazil, and another 11 banned in China.
In 2019, the World Health Organization (WHO) published the most current list on pesticide exposure. In the report, the organization classified pesticides based on how hazardous they are to human health. The list provides an overview of pesticides WHO considers extremely hazardous, highly hazardous, moderately hazardous, and slightly hazardous. In the extremely hazardous category, WHO lists 29 different pesticides. WHO lists pesticides in this category once they have enough evidence that they harm human health or the environment.
Extremely hazardous pesticides are labeled as such because they are the most toxic to humans. This classification includes pesticides that can cause cancer, gene mutations, morbidity, and mortality.
Of the 29 pesticides listed as most dangerous, the EPA still allows several of them to be used in the US. For example, one of the pesticides on that list is aldicarb. Despite the dangers of the chemical, it was only banned in 2009 in the US. And in 2021, the Trump administration reversed that decision via environmental deregulation policy. Now, Florida allows the use of the chemical with a permit. Other pesticides on the list, such as bromethalin, are restricted to only rodenticide use but not agricultural. However, this still poses a risk that those harmful chemicals can get into the environment and impact health. Other pesticides on the list, such as calcium cyanide, do not have any restrictions on them and are thus commonly used in the agricultural field.
An example of a pesticide that is widely used in the US but is classified as extremely hazardous by WHO is phorate. Phorate can cause neurological issues, which is of particular concern to children whose brains are developing. Also, another vulnerable group to phorate exposure is agricultural workers because they are exposed to the highest doses of this pesticide. Currently, 21 states allow phorate use, with most of the use occurring in the Midwest, Texas, and California. Although more than half of the country has banned phorate use, it can still potentially impact everyone through food exposure. For example, California is the biggest agricultural export in the country, and the pesticides they use for food production are not limited to state borders.
It is time for the EPA to get serious about this country's overwhelming pesticide use and take action to phase out these proven-to-be dangerous chemicals from our environment.