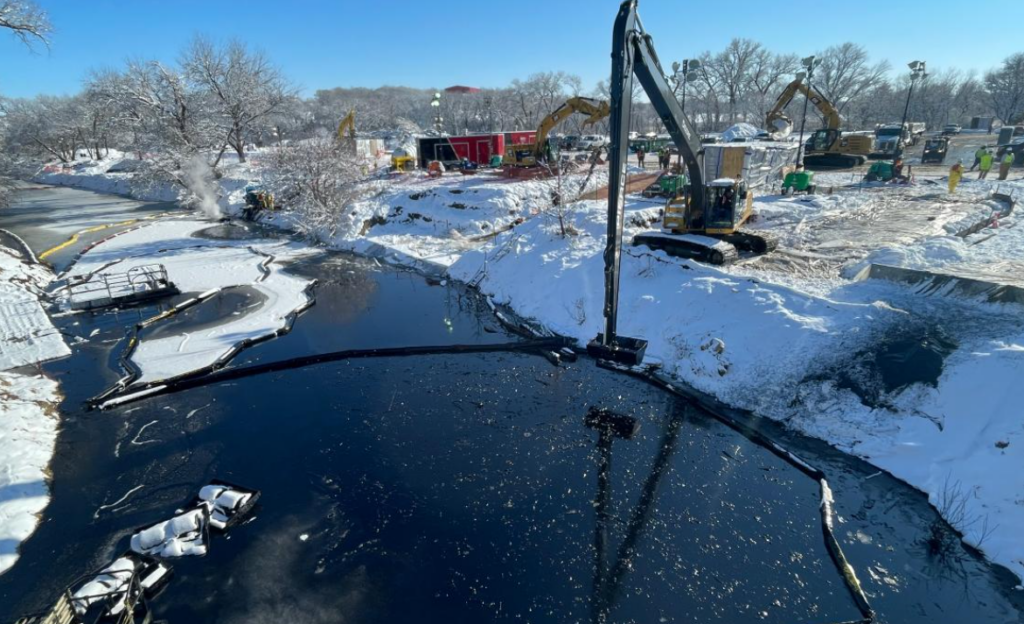 By Sharon Franklin.
Tim Carpenter, reporter for the Kansas Reflector, recently reported a massive oil spill that is distorting a Kansas couple's confidence in the integrity of the Keystone pipeline. The rupture of TC Energy's 36-inch steel pipe has released 13,000 barrels of heavy crude in Washington, Kansas.
Chris and Bill Pannbacker, beef and crop producers who grew up in a farmhouse less than 1-mile from the pipeline break, found a major break in the TC Energy Keystone pipeline that poured crude oil "black-as-night" on their livestock's grazing land and into the Mill Creek. The Federal regulators told them the accident was because of problems with design construction and operation of the pipeline. Meanwhile, TC Energy blamed a faulty weld in a bend that cracked under stress.
How Did This Happen? On December 7, there was an alarming pressure drop in the Keystone's pipeline, and equipment showed the rupture; however, before the Keystone pipeline could be shut down as much as 500,000 gallons of crude oil were discharged. It has affected vegetation and infected the modest creek. Under the oversight of the U.S. Environmental Protection Agency (EPA), the U.S. Army Corps of Engineers, and the Kansas Department of Health and Environment, TC Energy reopened the pipeline in three weeks, with restoration plans to proceed.
Unfortunately for the Pannbackers, they were involuntarily drawn into this environmental nightmare, more than 6 months ago, and are still being affected by the relatively quick repairs. During the clean-up, they have had an unobstructed view of work being done to remediate the area by a fleet of heavy equipment (excavators, bulldozers, trucks) tasked with the removal of oil-saturated soil for disposal. According to EPA, the $480 million project to remove oil and chemical pollution and to remediate the area continues.
The Pannbackers are planning to eventually move back to their family farm but are uneasy about the potential of another break in the pipeline, as Bill Pannbacker verbalized "You're damn right! If that line blows on top of that hill, it's going to shoot oil all over. It's going to cover that valley. I don't have the confidence in the line that I did before." Bill Pannbacker added, "I am impressed with the cleanup effort and the intensity of the cleanup effort," However, it hasn't quashed his apprehension and as he knows the clock is ticking toward a repeat of the pipeline catastrophe.