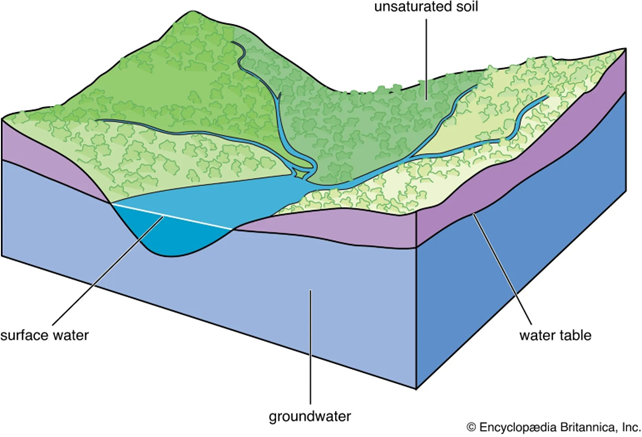 By Juliet Porter.
Climate scientists have discovered that Americans are using up groundwater faster than ever before in our history. Recently, the New York Times investigated this phenomenon by examining 84,544 monitoring wells, which trends have been examined since 1920. Approximately half of the wells examined have experienced decreasing water levels over the past 40 years as the rate at which water is being pumped out surpasses the water's rate of replenishing.
In fact, from 2013 to 2023, ten of these wells reached their lowest water level ever recorded, with 2022 being the worst year on record. These statistics prompted the New York Times to further explore this issue by interviewing over 100 groundwater experts in the United States to inquire about the future of groundwater and its environmental justice implications of this crucial diminishing resource.
Drinking water in the United States originates from three major sources: surface water, reservoirs, and groundwater, which derives from aquifers, and recycled water, also known as reused water. Farming is a major source of groundwater usage. Thus, depleting groundwater not only affects public health but the economy as well. Vast, expansive farms and industrial cities are draining groundwater reserves. While groundwater is becoming increasingly unavailable, the rate at which it replenishes cannot keep up with demand. Unfortunately, drained reserves could take hundreds or even thousands of years to fully recover if they ever replenish at all. For this reason, depleting groundwater represents a serious threat that poses irreversible harm to our society. Simultaneously, rivers fed by groundwater are becoming streams, or nonexistent.
Disappearing groundwater has more adverse effects on certain states:
Kansas, a state that is a major aquifer that formerly supported 2.6 million acres of land, now is no longer capable of supporting industrial-scale agriculture;
New York, (Long Island) where the over-pumping of groundwater represents a threat to the longevity of drinking water wells;
Arizona, (Phoenix) which is one of the fastest-growing cities in America, currently there isn't enough groundwater to build new houses that are reliant on aquifers; and
California, Utah, and Texas, also represent an overuse of groundwater and is causing roads to buckle, as foundations and fissures open-up.
Further exacerbating the issue of disappearing groundwater is the fact that there are little to no regulations addressing this topic. The federal government has shown that they have not addressed or played any role concerning this impending crisis. On the state level, there are few and far between rules on groundwater usage, and most of the existing laws are weak. In California, the Sustainable Groundwater Management Act was passed in 2014. This Act was intended to implement Groundwater Sustainability Agencies (GSAs) for each Basin by 2017 and integrate Groundwater Sustainability Plans by 2020 or 2022. However, in March 2023, it was found that the GSAs were falling behind on their sustainability goals. This lack of attention and lack of government intervention has fed the issue of depleting groundwater. This has enabled aquifer draining practices, (i.e. over-relying on groundwater in rapidly growing urban areas like Phoenix, Arizona, and planting water-intensive crops, like alfalfa, in drought prone areas).
At the end of the day, everyone's environment is threatened because of the depletion of groundwater and the lack of access to safe, clean drinking water. Sadly, this issue affects disadvantaged communities at a higher rate, and resolving this issue will be no easy feat, as irreversible damage has already been done. The future of groundwater is expected to be continuously depleted in the coming years, and this issue will change America's water systems' future.